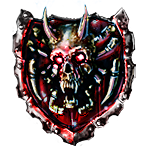 The Demon Hunter's Shield is a shield (Off Hand Item) purchased by using Blue Crystals.
This shield is created as a warning to any demons that may approach- the head of a demon that the wielder previously crossed paths with has been set into it as a gruesome coat of arms. Bear this shield in battle to display your might and have your foes scatter before the proof of it.
Protection: 16
Damage: 0
Bonus: +8 Life
Number in Existance: > 4000 (Exact number unknown).
When available: 2010-06.
Cost: 12 Blue Crystals
Related Articles
Edit
Ad blocker interference detected!
Wikia is a free-to-use site that makes money from advertising. We have a modified experience for viewers using ad blockers

Wikia is not accessible if you've made further modifications. Remove the custom ad blocker rule(s) and the page will load as expected.