These units are depictured with a golden border (in the market place) or the light gray background in the player profile. They have higher then normal attack and really high health but they are not able to use equipment (printed in bold at the end of the card) which means they have no protection or damage (see battle as to why this is important).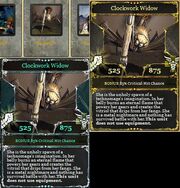 Ad blocker interference detected!
Wikia is a free-to-use site that makes money from advertising. We have a modified experience for viewers using ad blockers

Wikia is not accessible if you've made further modifications. Remove the custom ad blocker rule(s) and the page will load as expected.