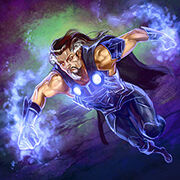 Shadow Knight
Edit
He is the ultimate champion; an icon of truth and justice. Evil cowers at the mention of his name and whole armies of Orks and Goblins have been known to run screaming from the battle arena, leaving nothing but discarded weapons and fecal matter in their wake. "Holy Crap! RUN!"
Power: 333
Life : 303
BONUS: 30% Critical Hit, 60% Double Strike.
Obtained by:
This unit is/was available in the Limited Tier of the MARKET until 6/10/13.
Ad blocker interference detected!
Wikia is a free-to-use site that makes money from advertising. We have a modified experience for viewers using ad blockers

Wikia is not accessible if you've made further modifications. Remove the custom ad blocker rule(s) and the page will load as expected.