If survival is key, then Suzy Bomber is the one to have at your back. A former expert in both explosives and guerrilla tactics, she can spot an ambush a mile away. She will keep her employer out of danger, increasing their life by +100.
Suzy Bomber was released to celebrate the first Champion reaching Level 400 in the game.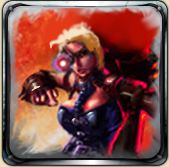 Cost
50,000 Gold
Bonuses
Your Champion
+100 Life
She is one of many personal advisors.
Ad blocker interference detected!
Wikia is a free-to-use site that makes money from advertising. We have a modified experience for viewers using ad blockers

Wikia is not accessible if you've made further modifications. Remove the custom ad blocker rule(s) and the page will load as expected.