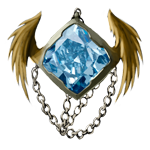 The Valkyrie's Call is a Limited Edition Talisman purchased by using Blue Crystals.
This sparkling-blue talisman is said to have plummeted from the Heavens, snapped from the neck of a fallen Valkyrie. When worn in battle, it encircles the wearer in protective magics to absorb incoming blows.
Protection: 17
Damage: 0
Bonus: +5 Life
Number in Existance: > 800 (Exact number unknown).
When available: 2010-06.
Cost: 12 Blue Crystals.
Status: Available.
Related Articles
Edit
Ad blocker interference detected!
Wikia is a free-to-use site that makes money from advertising. We have a modified experience for viewers using ad blockers

Wikia is not accessible if you've made further modifications. Remove the custom ad blocker rule(s) and the page will load as expected.